Morgan Stanley Reacts To Coronavirus: "…moving half of trading floor to Westchester office on Monday"
Morgan Stanley advisors and traders in NYC are about to get the news that changes are coming to the trading floor and offices based on the Coronavirus outbreak.
In an internal communication that was forwarded to BrokerChalk traders and advisors are set to be shipped out of Morgan Stanley's flagship offices and trading floor in NYC and shuttled to Westchester on Monday. Advisors will also be asked to consider a 'work from home' policy.
As COVID-19 begins to ripple through Wall Street in earnest (not just in asset prices and market swings) many expect several gathering places, such as trading floors, to become nearly vacant. Just yesterday Sequoia, one of the worlds largest venture capital firms, put out a memo calling the Coronavirus the 'Black Swan of 2020'.
Adjusting staff geographically is a reasonable reaction to the virus and Morgan Stanley is set to take action.
A small portion of the Sequoia memo said this, "It will take considerable time — perhaps several quarters — before we can be confident that the virus has been contained. It will take even longer for the global economy to recover its footing. Some of you may experience softening demand; some of you may face supply challenges. While The Fed and other central banks can cut interest rates, monetary policy may prove a blunt tool in alleviating the economic ramifications of a global health crisis."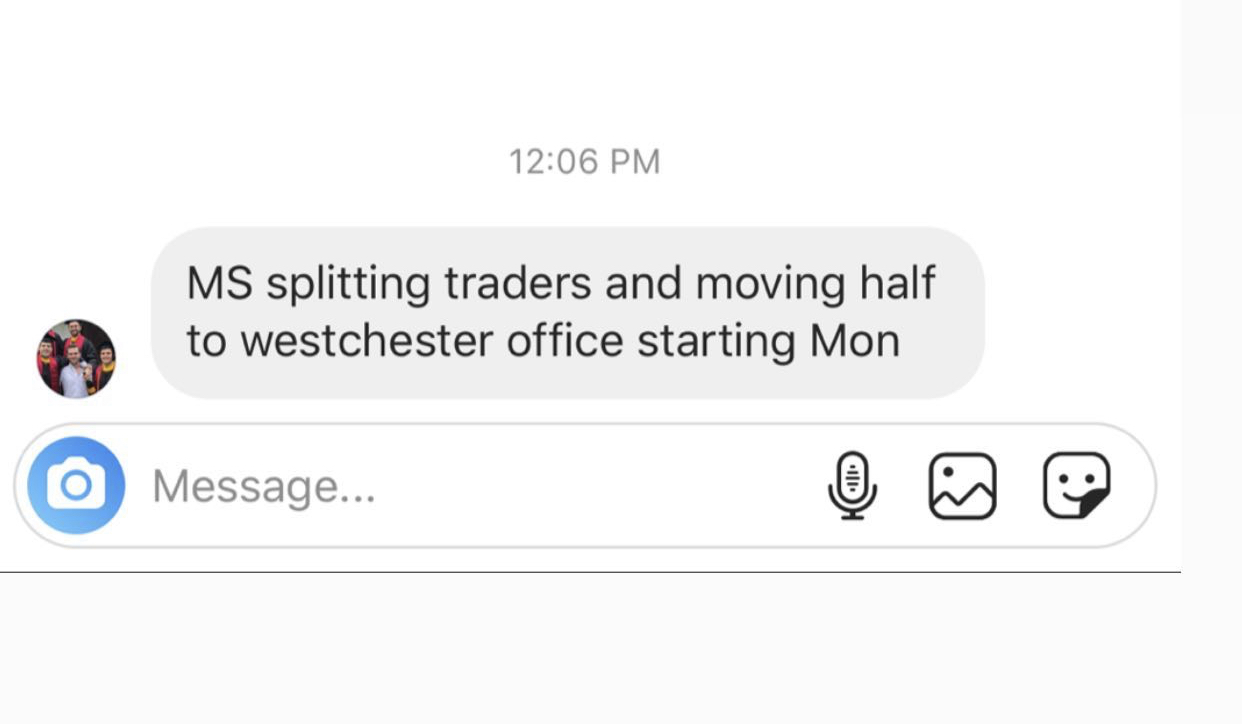 Expect more disruptions and expect more announcements across Wall Street.
https://brokerchalk.com/wp-content/uploads/2020/03/Morgan-Stanley-Reacts-To-Coronavirus-moving-half-of-trading-floor-to-Westchester-office-on-Monday.jpg
400
1200
BrokerChalk Editor
https://brokerchalk.com/wp-content/uploads/logo-header.png
BrokerChalk Editor
2020-03-06 10:25:06
2021-04-24 05:16:36
Morgan Stanley Reacts To Coronavirus: "…moving half of trading floor to Westchester office on Monday"