In an interview with leading securities law expert and well-known transition lawyer Brian Neville, we tackle issues associated with non-solicit agreements, advisor transitions, and business valuations should your firm exit the broker protocol. Some shocking revelations and instant food for thought.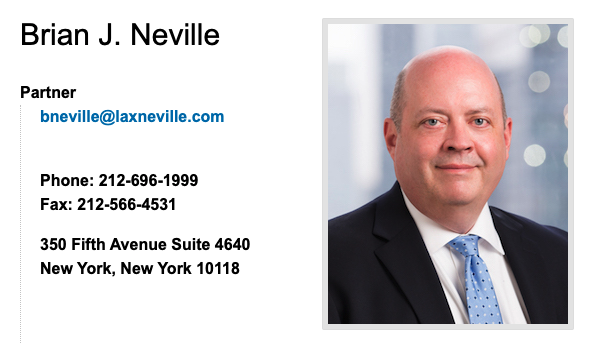 Brian J. Neville, a founding partner of Lax & Neville LLP, has significant experience in broker/dealer, securities, regulatory defense, employment, and commercial litigation in arbitration forums and state and federal courts. He has arbitrated cases in at least 18 states and has been lead counsel on well over 500 matters.
Mr. Neville has successfully represented investors and broker-dealers in disputes involving sales practice issues and employment disputes. Mr. Neville also represents firms and registered representatives in enforcement actions by Financial Industry Regulatory Authority, Inc. ("FINRA") (formerly the NASD and NYSE) and the Securities and Exchange Commission ("SEC"). On behalf of investors, he has recovered in excess of $50 million. On behalf of his defense clients, which tend to be individual registered representatives, management of broker-dealers or smaller/regional brokerage firms, he has successfully defended and resolved numerous cases.